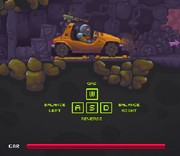 The Zombomobile is the vehicle you use in Zombotron 2 (game).
Story
[
]
After you clear the warehouse of spiders, the Scientist gives you the Zombomobile to help you escape the planet. You can shoot the Gatling Gun mounted to the top without having to exit the vehicle. It will instantly kill most creatures if you drive over them, especially if you are going fast. You will die if it explodes while you are riding it. The Zombomobile also appears later.
---
Appearance
[
]
The Zombomobile has an orange-yellow color and has a Gatling Gun on the top of it. It has an open cockpit, with a small windscreen.
Controls
[
]
W- accelerate/forward
S- reverse
A, D- balance (right or left)
Mouse- Aim Gatling Gun
Left click- Shoot Gun